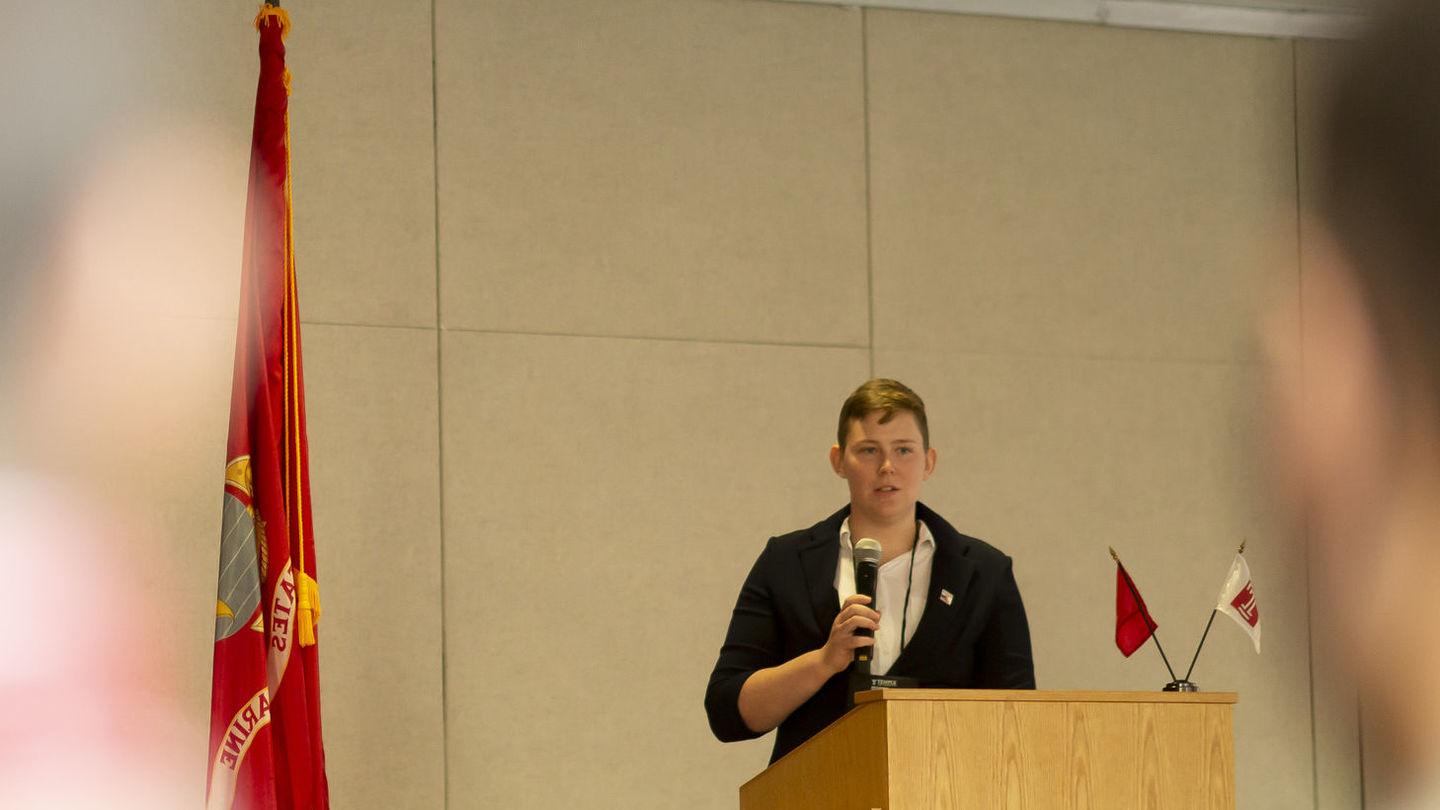 Meet Captain Kristie Furiosi, the newer Assistant Director of Military and Veterans Services Center at Temple University. Capt. Furiosi sat down with us in order to share her story in the military, as a Temple Alumn and now Temple staff.
Q: When did you attend Temple University and what did you major in? 
A: Actually, I attended Temple University because I was offered a four year scholarship from ROTC in 2013. My undergrad, I majored in Communications and now I am a graduate student at Temple University's Klein College for Communications Management.
Q: When did you graduate from Temple University? 
A: I graduated from my undergrad at Temple in 2017 and was commissioned into the Army that same year.
Q: What made you choose to join the Army? 
A: I joined the Army because, from as far back as I can remember, whenever I saw someone in a uniform it inspired me. It made me want to be a part of something bigger than myself, which appealed to me. 
Q: What base were you located at?
A: I was stationed on the West Coast in Fort Lewis, Washington near Seattle 
Q: Were you ever deployed?
A: Before being commissioned in the Army, the ROTC sent their soldiers on missions that taught us culture understanding in Germany and Romania. In addition, during my time in the Army we had missions to South Korea. But, I was never officially assigned on a deployment.
Q: Did you experience any challenges during your time in the military? 
A: I think the most difficult part of being in the Army is being seperated from my family. Also, understanding how to navigate a male dominated field as a woman was definitely a challenge.  
Q: What did you do between graduating and working at Temple University? 
A: Actually, I was a Gold Bar recruiter for Temple University's ROTC program. Soon after that, I was sent to Fort Sam Houston for medical training. I want to make it clear I am not a medic in the Army! People always called me doc and I had to correct them. My position in the Army was more administrator that focused more on procedure than treatment. 
Q: How did the military change your perspective on life? 
A: At a young age of 22 I was already appointed an officer in the Army. People who had been in for 30 years were saluting to me. As a result, I made sure I presented myself with humility and mutual respect. Not only that, but it forced me to mature quickly due to all the responsibilities placed on me. 
Q: Are you retired from the military? 
A: No, not retired, just seperated. It's an honorable resignation from commission. However, I am still connected with my previous comrades to this day. 
Q: How do you feel about working at Temple University?
A: It's like the great homecoming and I love it! Too good to be true! After interviewing at Temple, it felt like cosmic timing. And it was important to me to be closer to family. It was a bonus to  be in a position that involved military and veterans. The most fulfilling aspect of my job is helping students that have either direct or indirect connection to the military.
Q: Do you have any advice for students?
A: Life will always have opportunities if you're open minded and willing to go after them. So take advantage of the opportunities! This career move helped me achieve my first steps towards my dream of achieving my masters. If I were to imagine my future, I don't even think I could have pictured it this good.